Grade 10 student, Hannah Angelica Dumlao bagged first place in the Regional Festival of Talents held last November 8 at Aurora A. Quezon Elementary School in Manila.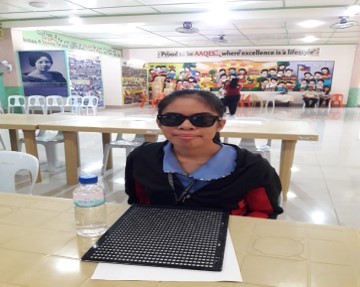 The competition covered questions on Philippine politics, literature, culture, and rights of Persons with Disabilities (PWDs). Questions were categorized as Easy (1 point), Average (2 points), and Difficult (3 points) with a total of 25 questions in all. Contestants were only given 20 seconds to write their answers for all the categories. 
The Braille and Sign Language Quiz Bee are one of the component areas of the Regional Festival of Talents where contestants are learners from grade 7-10 and are visually impaired and are deaf.
For contestants with visual impairment, questions were read by the quiz master. While answers were written in Braille. Then an official translator transcribed the answers in print. While the questions for contestants who are deaf were signed by an official sign language interpreter.
Hannah Dumlao, who was the overall winner in the visually impaired category  of this competition will be competing next year, January 28, 2019 for the National Festival of Talents that will be held in Pangasinan.
Thanks to the hard- working trainers of Hannah, Sir Ronald Manguiat and Sir Christian Carreon who were with her at the competition to support her in her big day.
This undertaking is a project of the Department of Education through the Curriculum and Learning Management Divison (CLMD) with the theme "Celebrating Diversity Through the Performance of Talents and Skills for Sustainable Inclusive Education".