TAGUIG CITY — PNSB is one of the recipient institutions who received OrCam MyEye device from Aboitiz Foundation and St. Joseph Foundation. The ceremonial Memorandum of Agreement signing and the turn-over of the device was held at the Aboitiz foundation headquarter in Bonifacio Global City Taguig.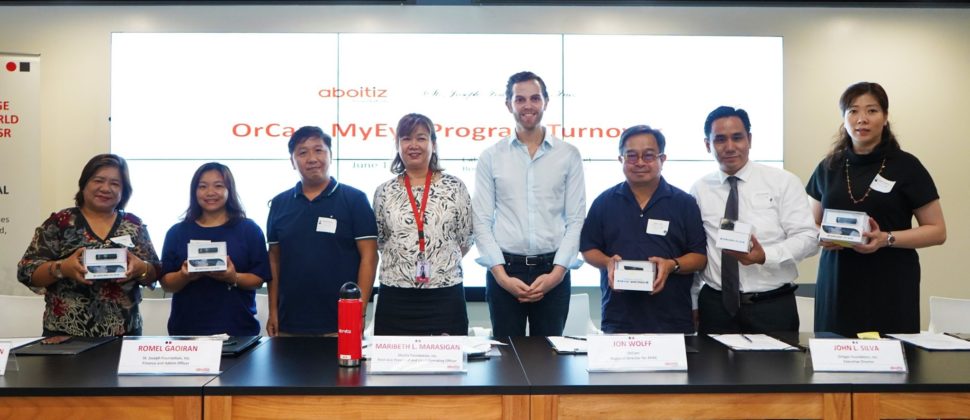 Eight teachers with visual impairment along with other teachers including Mrs. Corazon B. Salvador, School Principal, and Ms. Lyka Dionisio, school LRMDS Coordinator experienced first-hand the power of OrCam MyEye device.
OrCam MyEye is a revolutionary wearable artificial vision device for people with reading challenges. It is a wireless and handy device that is about the size of a finger. This ingenious device can capture just about anything in a quick snappy tap of the device in real-time.
It can instantly read aloud printed or digital texts on any surface, including signages on walls. It also has the ability to recognize pictures, person's face (of up to 150 faces), and even interpret Philippine bills. Moreover, OrCam MyEye can describe the number of persons surrounding a blind person in a crowd; it can detect gestures like it will tell the time if you position your arm as if you are checking the time. 
The next day after the turn-over of the device, Aboitiz Foundation representative together with OrCam MyEye regional director for Southeast Asia, Jon Wolff, went to PNSB to present the benefits of device to selected PNSB students and let them experience first-hand the amazing usefulness of the device as a learning tool.
Mrs.  Corazon B. Salvador expressed her heartfelt gratitude to the two foundations who graciously afforded such a technology. Saying "With this assisstive technology, we will now be able to give better education to our visually impaired learners; allowing them to overcome reading challenges they encounter on a day-to-day basis".
This endeavor was witnessed by LRMDS Education Program Supervisor, Dr. Normina B. Hadji Yunnos and Cluster 5 PSDS, Dr. Rosalie R. Condes.
The 7 units of OrCam MyEye were lodged at the Learning Resource Center of the school.